Support Us
With additional funding we can help more people and change more lives
Here's how you can help us do this:
You can donate money at any time through our JustGiving page. When we organise specific fundraising events of our own we advertise them on this page.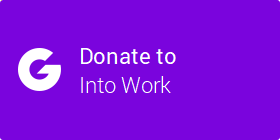 You can also support Into Work by shopping online through Give as You Live Online. By selecting us as your chosen charity, very time you shop online with participating retailers a percentage is given as a free donation to Into Work.

Corporate partnerships
At Into Work we know that great things can be achieved when a charity and a business team up. Getting involved with Into Work will benefit your business, help us reach our goals and make a real difference to the community.
There are lots of ways your organisation can help.
Become our Charity of the Year partner
Organise some office fundraising
Payroll Giving
Gift in Kind donations
Pro Bono support. Call 0131 475 2600 or email Susan.Tait@intowork.org.uk to find out more.
What's in it for you? It's never been more important to maximise your organisation's Corporate Social Responsibility potential, and supporting a trusted and respected charity is a great start. Your staff will enjoy getting the chance to give something back to their community and be inspired by the people Into Work supports.